Sioux Falls Wills & Trusts Attorney
Seek Guidance from Our Experienced Estate Planning Lawyer
Wills and trusts are important building blocks in any comprehensive estate plan. These legal documents offer many benefits and allow you to pass assets onto beneficiaries according to your wishes. At Ronke Law, we help families throughout the region take advantage of these important estate planning tools. Our Sioux Falls wills and trusts attorney can tailor your estate plan to your unique needs.
Contact us at (605) 250-9988 for a free consultation about your estate planning needs today.
Wills
A last will and testament is the foundation of your estate plan. Without it, your assets and property will be subject to the probate process and will be distributed by the court according to state law without your input. Probate can be a time-consuming and expensive process that can lead to conflicts and contests among heirs and beneficiaries.
Your last will and testament will:
Designate who will inherit your assets
Designate when and how they will receive the assets
Name an executor (personal representative) who will guide your estate through the probate process according to your instructions
Name a guardian for any minor children
A living will – also called an advance health directive – is different from a last will and testament. A living will outlines your wishes regarding medical care should you become incapacitated or reach the end of your life.
Trusts
Trusts are fiduciary arrangements that allow you to safely pass assets onto beneficiaries. The most common is the living trust, a revocable trust in which you place your assets so that they can be managed during your lifetime as well as when you pass away. Usually, you act as the trustee of your trust during your lifetime and can make any changes you wish. You will also name a trustee to ensure the assets are passed onto your beneficiaries once you have passed away. A trust allows for the easy transfer of your property and assets to your heirs and beneficiaries without having to go to court. This can save time, money, and taxes in the transfer of your assets.
Other trusts can be set up for specific purposes such as charitable trusts, trusts for relatives with special needs, trusts for pets, and more.
Contact our wills and trusts attorney in Sioux Falls to learn more. Call (605) 250-9988 today.

Client reviews
People Matter Most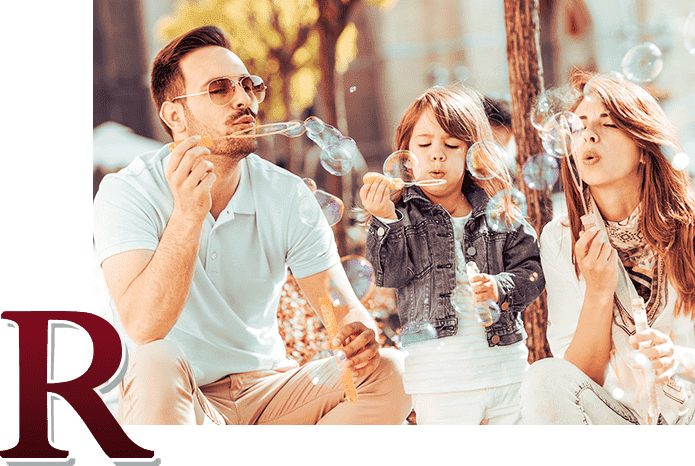 Highly recommend! - Sarah F.

Eric Does a Fantastic Job! - Katherine H.

Exactly What Is Needed - Judy A.

Knowledgeable and Is Committed to His Clients - Todd S.

Eric is Great to Have on Your Team - Client

Very Smooth Process - John H.

Superior Quality & Service - Kevin

Everyone is nice and informative in the office! - Dan T.

Thank You! - Robert M.

Knowledgeable and Courteous - Pam I

Eric was fantastic as was his staff! - Sarie L.

Cannot say enough about how thankful we are for choosing this route and the help we were given. - Dani S.

Never Felt Rushed or Forced into Making Decisions Without Knowing All the Facts - Amanda W.

Eric Made My Bankruptcy Easy & Less Stressful - Carly K.

He kept me informed every step of the way!!! - Joshua S.

I had a great experience with all the people there. - Debbie G.

Eric offers better financial options than the other lawyer we met with and opportunities to help build our credit back - Lindsay M.

Eric is so knowledgeable and explains it in a way that everyone can understand. - Jay T.

A very positive experience. - Dan J.

The Most Authentic Person You Could Have as Your Attorney - Dan O.
Ronke Law
Why We're The Best Choice For You
Quality Service With an Attorney Who Cares

720CreditScore.com Services after Bankruptcy

Payment Plans Available

Free In-Person Consultations

Services Available in English & Spanish

Work Directly With the Attorney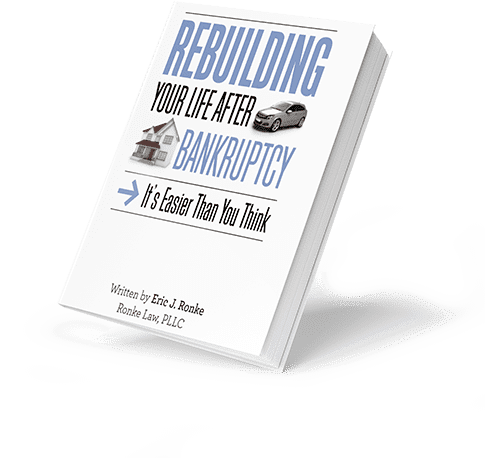 Free e-Book
Download our complimentary book,
"Rebuilding Your Life After Bankruptcy"
Written by Eric J. Ronke