Chapter 13 Bankruptcy Lawyer in Sioux Falls
Effective Bankruptcy Representation in Your Time of Need
The second most common type of bankruptcy in the U.S. is Chapter 13, or the "wage earner's" filing. This type of bankruptcy is common among those who have enough income to create a plan to repay part or all of the debt they owe. In Chapter 13 bankruptcy, you create a repayment plan and pay monthly installments to your bankruptcy trustee over a three- to five-year period. The trustee will distribute those payments to your creditors. You will have no further direct contact with your creditors, who also will be prohibited from any further collection attempts.
Ready to discuss your financial situation? Call Ronke Law at (605) 250-9988 for a free consultation.
The Ins & Outs of Chapter 13
An advantage of Chapter 13 is that it provides an opportunity to avoid foreclosure on your home. Under this plan, you can halt foreclosure proceedings and make up your back-mortgage payments over time. Another advantage is that you can reschedule other secured debts and pay them over three to five years, which could reduce the payments.
To be eligible for Chapter 13, both your secured and unsecured debt must be less than specified amounts set by the government. You must also demonstrate to the court that you have a steady source of income that will cover both your monthly household expenses as well as your required payments under your repayment plan.
While Chapter 13 bankruptcy is not available for businesses, as an individual you can pay business-related debts in this plan if you are personally responsible for them. You may also be able to pay past-due debts such as income taxes, child support, and alimony over time.
Your monthly payments will be determined by:
The amount of your debt
The types of debt you owe
Your income
Your expenses
At the end of your Chapter 13 repayment plan, whatever debt remains on the plan will generally be discharged.
Schedule a Free Consultation Today
At Ronke Law, we can review your financial situation to help you determine if Chapter 13 is right for you. We have helped hundreds of individuals get a fresh start and find relief from the overwhelming debt they faced. Our Chapter 13 bankruptcy lawyer in Sioux Falls can carefully review your case and help you take the right step forward.
To discuss your eligibility and needs with our firm, request a consultation through our online contact form or call (605) 250-9988.

Client reviews
People Matter Most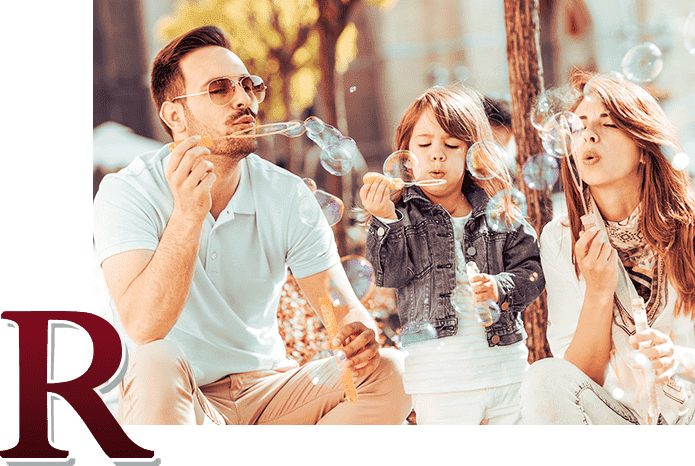 Prompt, Professional, & Personable - Client

Someone You Can Trust - Jay

Stellar Communication - Raine

I highly recommend them! - Cynthia D.

Very Smooth Process - John H.

Eric Does a Fantastic Job! - Katherine H.

I found Eric to be an extremely knowledgeable, professional, easy to communicate with, effective attorney. - Cody B.

Very helpful at all times! - Terry R.

Everyone is nice and informative in the office! - Dan T.

Highly recommend! - Tom A.

I would highly recommend Ronke Law - Charles C.

Superior Quality & Service - Kevin

Eric was fantastic as was his staff! - Sarie L.

Cannot say enough about how thankful we are for choosing this route and the help we were given. - Dani S.

Eric is Great to Have on Your Team - Client

Highly recommend. - Vesna S.

Eric is so knowledgeable and explains it in a way that everyone can understand. - Jay T.

Amazing! - Shawn G.

I Would Recommend Eric to Anyone - Scott

He kept me informed every step of the way!!! - Joshua S.
Ronke Law
Why We're The Best Choice For You
Quality Service With an Attorney Who Cares

720CreditScore.com Services after Bankruptcy

Payment Plans Available

Free In-Person Consultations

Services Available in English & Spanish

Work Directly With the Attorney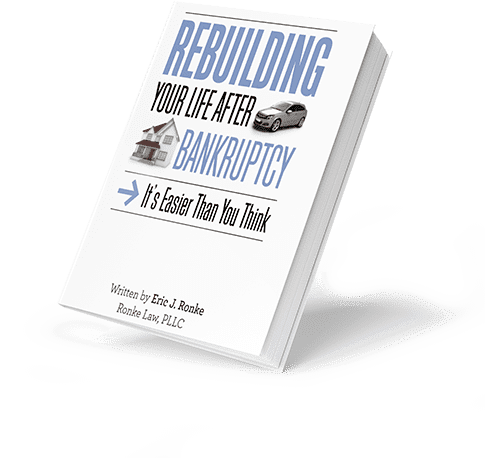 Free e-Book
Download our complimentary book,
"Rebuilding Your Life After Bankruptcy"
Written by Eric J. Ronke